BSG Infinity (M) Sdn Bhd
No. 8, Jalan SS15/3B, Subang Jaya, 47500 Subang Jaya, Selangor, Malaysia.

+6010-9883996

PROMOTION!! Good Quality Customer Display POS System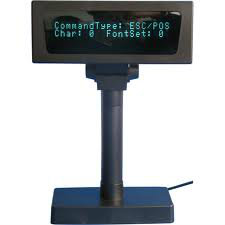 Description
One optional part of a point of sale system is the customer display or pole display. A lighted display for the customer to view transaction totals, amount tendered and some customer displays feature customized messages or can show advertising. Customer displays may contain either multi-line fluorescent or LCD displays that connect to your system through a USB, Serial, or Parallel connection. Make it easy for your customers to follow each transaction with the right customer display.
1. Adjustable pole height
2. LCD display with green character, two-line display with 20
characters per line
3. Adequate character size :, 6.0 × 9.6 mm
4. 15° and 23° adjustable view angles vertically
5. Rotated display frame almost 360° horizontally
6. Various command emulation modes selection by DIP switch
7. Interface : USB
8. Dimension : 199 mm (W) x 120 mm (D) x 265 ~ 395 mm (H)