BSG Infinity (M) Sdn Bhd
No. 8, Jalan SS15/3B, Subang Jaya, 47500 Subang Jaya, Selangor, Malaysia.

+6010-9883996

BIRCH BP-525D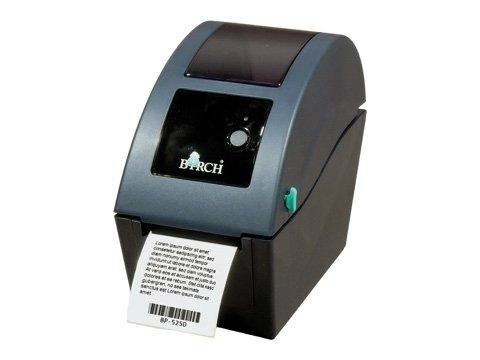 High-Performance thermal direct printer
BP-525D offers standard memory of 4MB Flash, 8MB SDRAM and a slot for MicroSD card slot that users can inexpensively expand the flash memory storage maximum to 4GB. Furthermore BP-525D built with Real time clock (RTC) and built-in 32 bit processor with a print speed up to 5"/second with 203 dpi resolutions.
For most of applications
гн Retailing Stores (POS)
гн Office Automation (O/A)
гн Factory Automation (F/A)
гн Hospital and Health Care
гн Other Related Automation
Specifications
Printer
Printing Method: Direct Thermal Mechanism Printed

Density: 203dpi (8dots/mm)

Maximum Print Width: 54mm (2.13")

Maximum print length: 2,286mm (90")

Printing Speed: 50mm, 76mm, 100mm, 127mm (2, 3, 4, 5 ips) 50mm, 76mm, (2, 3 ips) selectable with peel off function
Enclosure
Material: Double-walled Plastic

Operation Panel: LED (3 colors, Error, On line, Clearing data and Downloading data), Power Switch, Feed button

Dimension: 209mm x 109mm x 171mm (8.23"x 4.29"x 6.73")

Label roll capacity: 127mm (5") OD, 1"core

Others: With wall mounting hole at the bottom cover
Media
Media type: Continuous, die-cut, black mark, fan-fold, notch, wristband

Media wound type: Outside wound

Media width: 15~60mm (0.59"~2.36")

Media thickness: 0.06~0.19mm (2.37~7.4mil), max. 150g/m2

Media core diameter: 25.4~38mm (1"~1.5")

Label length: 10~2,286mm (0.39"~90") Peel off mode: 25.4~152.4mm (1"~6") Cutter mode: 25.4~2,286mm (1"~90")
Hardware
Processor: 32-bit RISC CPU

Memory: 4MB FLASH memory, 8MB SDRAM, MicroSD card slot for memory expansion up to 4GB

Sensors: Gap transmissive sensor (offset 4mm from center) Moveable black mark reflective sensor Head open sensor

Interface: RS-232 (max. 115,200bps) and USB 2.0 (full speed mode) Optional for Internal Ethernet

Power: AC 100-240V, DC 24V 2A, external universal switching power supply

Operation switch, button: One power switch & feed button

Real time clock: Standard with RTC

Optional: Guillotine cutter for full cut or partial cut, peel off module and internal Ethernet card
Fonts : 8 alpha-numeric bitmap fonts One Monotype® Imaging CG Triumvirate Bold Condensed scalable font

Printer language: TSPL-EZTM
------------------------------------------
Warranty:
1 year

Price: RM800! only
------------------------------------------
Please call for inquiries or confirm COD location.
(Call/SMS/Whatsapp/Viber/Kakao)