Nexus Digital Trading
31-3, Jalan OP 1/6,
Pusat Perdagangan One Puchong,
47160 Puchong,
Selangor, Malaysia.
+6010-9883996
sales@nexusdigital.com.my
Branch
78-01, Jalan Perjiranan 2,
Bandar Dato Onn,
81100 Johor Bahru,
Johor, Malaysia.
+6012-889 6800
salesjb@nexusdigital.com.my
HONEYWELL Dolphin 6100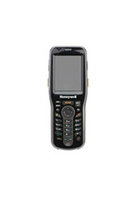 1. Honeywell's Dolphin® Mobile Computer, WIFI,Image Scannner Engine

RM3700.00




P/N: 6100EP-111-11E-OH
2. HomeBase - Single Slot Carde, Rs232/USB, spare battery charging slot

RM560.00


P/N: 6100-HB
3. Ebase - Single
Slot Carde, Rs232/USB, spare battery charging slot
RM750.00

P/N: 6100-EHB
4. Quad Charger - 4 Slot battery bay - Charges standard and extended capacity battery

RM850.00


P/N: 6000-QC
5. Extended Capacity Battery with Battery Cover RM420.00
P/N: 6000-BTEC
6. I/O Sync Cable - USB RM270.00
P/N: 6100-USB



Honeywell's Dolphin® 6100 is a stylish and reliable mobile computer that provides advanced data collection and real-time wireless communication for in-premise applications including price lookup/audits, inventory management, customer assistance, and merchandising. This pocket-sized device provides mobile workers with the tools needed to streamline tasks, improve productivity, and maximize investment protection. The 6100 mobile computer has a class-leading micro-processor which supports several platforms and comes in a sleek, user-friendly design.