BSG Infinity (M) Sdn Bhd
No. 8, Jalan SS15/3B, Subang Jaya, 47500 Subang Jaya, Selangor, Malaysia.

+6010-9883996

CODE SOFT S4 Barcode Printer 203dpi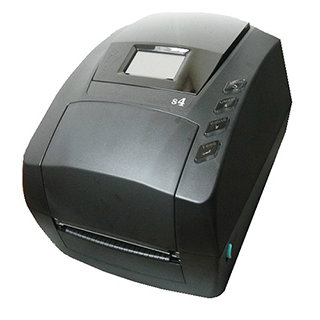 Download
S4-Printer_Driver_v1.5.0.0_For_Windows_8_(32bits)_Only.rar
(446.99 KB)
S4-Printer_Driver_v1.3.0.0_For_Windows_Xp,_Windows_Vista,_Windows_7.rar
(0.96 MB)
S4-BarDrawer_updated_at_20130513_v2.1.0.1_for_Windows_XP,_Windows_Vista,_Windows_7_and_Windows_8.msi
(7.79 MB)
S4_Brochure.pdf
(1.04 MB)
Code_Soft_s4_Users_manual.pdf
(2.23 MB)
Code_Soft_s4_quick_start_guide.pdf
(1.61 MB)
It's small, but INDUSTRIAL PERFORMANCE
S4 printer is a compact size and cost effective desktop printer, but equipped the industrial level specification. Small printer cost, industrial benefit.

| Feature | S4 Desktop Label Printer |
| --- | --- |
| Weight | 2kg |
| Interfaces | Serial, Parallel, USB master and slave, ethernet 10/100Mbps (optional) |
| Dimensions | (L)263 X (W)200 X (H)188mm |
| Operating Temperature | 0 to 50 degree Celsius |
| Power | switching power adapter - input: 100 to 240V | Output: 24V |
| CPU | 32-bit CPU |
| Memory | 8MB SDRam, 4MB Flash ROM (up to 4GB) |
| Resolution | 203dpi / 300dpi |
| Max Print Length | 150 inches |
| Print Width | 4.1" (104mm) |
| Sensor Type | Moveable defelective and see-through sensor, Label Sensor, Cover open Sensor, ribbon sensor |
| Display | Black LCD display 128 X 64 dots |
| Control Panel | 4 function keys, 4 status LED light 1 error LED light |
| Media Width | 0.59"~4.22" (15mm-110mm) |
| Media Roll Diameter | ID-1" (25.4mm) / OD-MAX 5" (127mm) |
| Media Thickness | 0.002" (0.06mm) to 0.0075" (0.2mm) |
| Media Type | Continuos, die-out, tag, fan-fold, black mark |
| Ribbon Width | 1.0" (25.4mm) to 4.3" (110mm) |
| Ribbon Roll Diameter | ID-0.5" / OD-1 1.535" |
| Ribbon Length | Max Length 100M |
| Ribbon Type | Wax, Wax/resin, resin |
| Optional | Peeler Kit, Cutter, Ethernet module |
| Certification | CE, FCC class B, CCC, CB |
| Print Speed | 1" to 4" ips |