Nexus Digital Trading
31-3, Jalan OP 1/6,
Pusat Perdagangan One Puchong,
47160 Puchong,
Selangor, Malaysia.
+6010-9883996
sales@nexusdigital.com.my
Branch
78-01, Jalan Perjiranan 2,
Bandar Dato Onn,
81100 Johor Bahru,
Johor, Malaysia.
+6012-889 6800
salesjb@nexusdigital.com.my
CODE SOFT CS-3260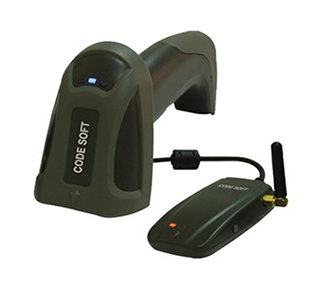 Download
CSIUM_User_Manual.pdf
(2.19 MB)
CSIQG_Quick_Guide.pdf
(569.15 KB)
CS3260_Tools_v1.2.3C.rar
(1.31 MB)
CS3260_BR_CS-3260_Brochure.pdf
(756.98 KB)
Decode all major 1D barcode symbologies including GS1 DataBar

433MHz ISM frequency band

Strong penetrating power for obstacle, up to 200 meters working range (open air)

Two kinds of wireless network topology, point coordination and distributed coordination, are provided to match different environments, e.g. a place where mass data transmission at short intervals is in need, or mass scanners (up to 2000 pieces) operating simultaneously without disturbing to each other.

1400mAh Li+ battery: up to 16,000 scans per charge

Built-in self-protected charging circuit

Batch modes: out of range notice; 2,000 barcodes storage

Reliable safety design: handheld case made of fire-resist material

Lifetime scratch and abrasion resistance as the exit window made by chemically tempered float glass

Easy firmware upgrade

Intelligent barcode sorting technology: different scanners within one cluster can provide result to different software applications in one machine.

Flexible software customization

Customized RF mode of 2.4GHz Bluetooth is available.
| Feature | CS-3260 |
| --- | --- |
| Weight | 199g |
| Light Source | 650nm Visible Laser Diode |
| Depth of Scan Field | 0-380mm (UPC/EAN 100%, PCS 90%) |
| Scan Speed | 100 scans per second |
| Scan Method | Single laser scan mode |
| Minimum Bar Width | 0.1mm (4 mil) |
| Decode Capability | Auto-discriminates all standard 1D Barcode |
| Interfaces | Keyboard PS2, USB or RS-232 interfaces |
| Print Contrast | Minimum 25% |
| Indicator | Visual and Audio |
| Dimensions | (L)170 X (W)70 X (H)83mm |
| Cable | Non Field Replaceable |
| Input Voltage | 4.75 - 6.50 VDC |
| Operating Current | 500mA @ 5V |
| Operating Temperature | 0 to 45 degree Celsius |
| Storage Temperature | -20 to 60 degree Celsius |
| Humidity | 5% to 85% (non-condensing) |
| Drop Durability | Multiple 2.0 meters drops to concrete |
| Protection Class | IP52 |
| Battery | 1300 mAh Lithium-ion battery |
| Charge Time | Fully charged in 3.5 hours |
| Standby Time | 7 days |
| Read Barcode Per Charge | 160,000 scans per charge |
| Coverage | 200 meters (open area) |
| Radio Link | 433MHZ adaptive frequency hopping |